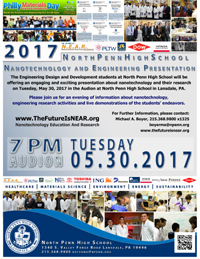 Lansdale, PA (May 8, 2017) - Students of the North Penn High School Engineering Academy will be presenting their nanotechnology and engineering research on Tuesday, May 30, 2017 at 7:00 PM in the audion at North Penn High School.
Throughout the evening, students will present innovative ways they have designed and tested solutions to tackle some of the most pressing energy, healthcare and environmental problems facing our world today. Their innovative approaches to problem solving, experimental design and STEM research was made possible through generous grant funding from the North Penn Educational Foundation, the Dow Chemical Company, the Pennsylvania Space Grant Consortium and many other leading businesses and organizations.
Following the first half of the presentation in the Audion, there will be a poster session in the auxiliary gymnasium for questions and answers, demonstrations of their research, a scanning electron microscope demonstration from Hitachi and Angstrom Scientific, demonstrations and examples of work from other courses in the engineering academy and much more!
For further information, please contact:

Mr. Michael Boyer
North Penn High School
Technology and Engineering Education Department Chair
1340 S. Valley Forge Road
Lansdale, PA 19446
215.368.9800 x1325